G-SHOCK
Casio G-Shock GULFMASTER GWN-Q1000MC-1A

G-shock adalah icon simbolik dari jam tangan Casio. Hampir semua orang pasti mengetahui dan mengenal atau bahkan memiliki jam Casio G-shock. Jika Anda sedang berpikir untuk mendapatkan salah satu Jam Casio G-shock, maka Anda telah melakukan sesuatu yang benar.
Pastikan Anda membeli Jam Casio Original dan bergaransi resmi di sini.
Availability:
Out of stock
Rp 16.199.000
Out of stock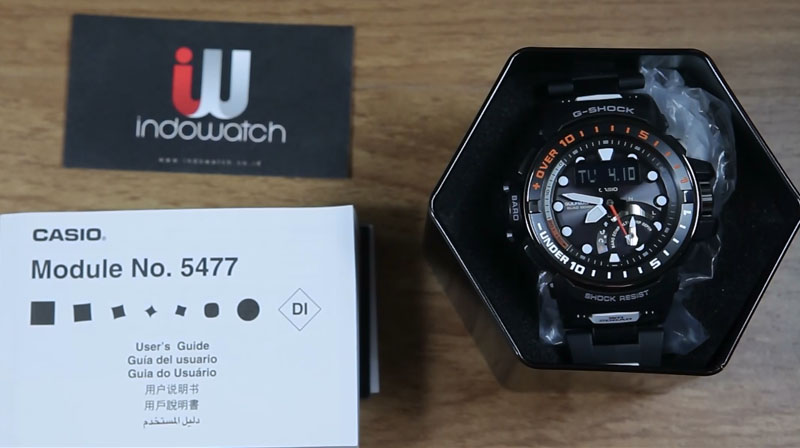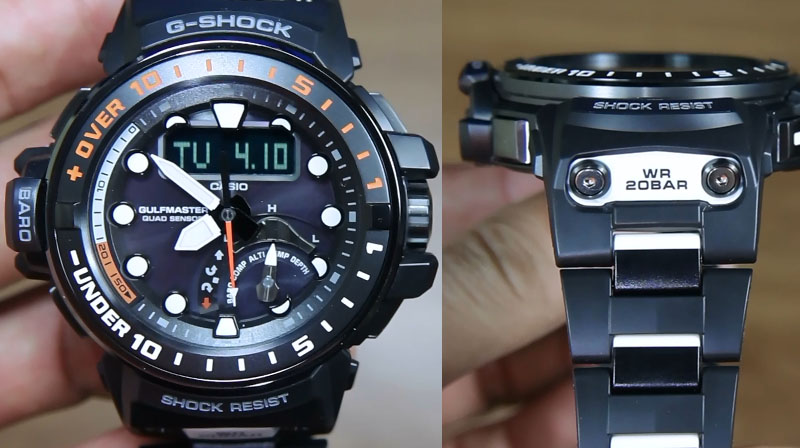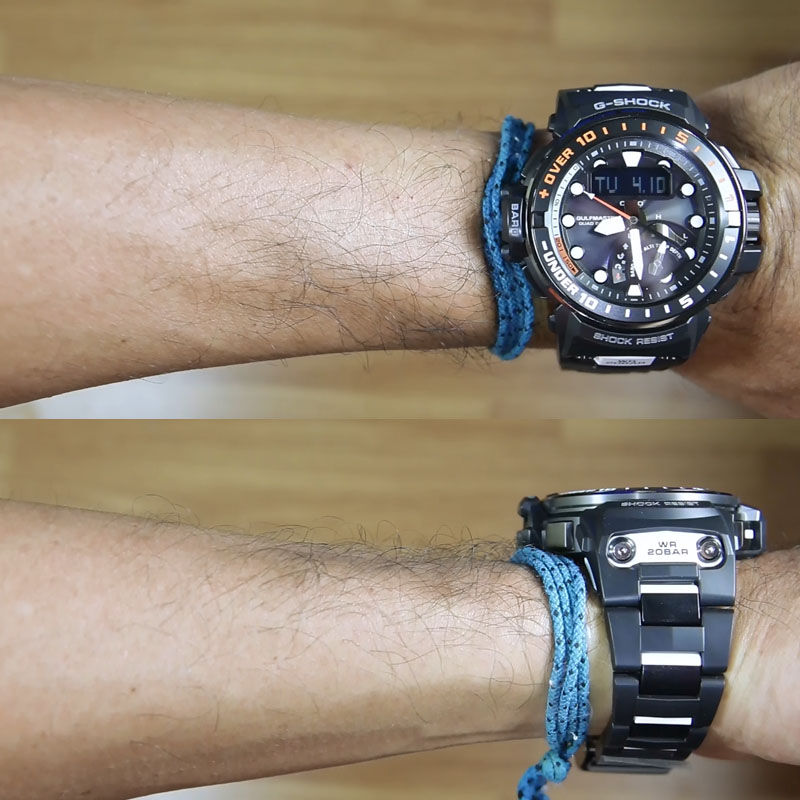 Introducing GULFMASTER, the new G-SHOCK Series that's designed and engineered with the maritime adventurer in mind.
GULFMASTER includes the first G-SHOCK models to incorporate both Triple Sensor Version 3 and Smart Access in the same watch. In addition to barometric pressure, altitude, bearing, and temperature readings, these new models also feature Tide Graph and Moon Age capabilities to help keep you in close touch with your natural environment. Sudden extreme change in barometric pressure are alerted using a dial hand, LCD display, and alarm. Dual LED lighting illuminates the LCD, and also adds a face light at 6 o'clock to keep information bright and easy to read even in total darkness.
The designs of these watches have been modeled after the look of shipboard instruments to create an attractive marine look. Large buttons are provided for critical light and sensor operations to help make operation easier and more intuitive.
All of this and much more makes all of the models in the GULFMASTER Series the logical choice for the maritime adventurer who desires something extra in performance and overall toughness.
 Spesifikasi Tehknik
Case / bezel material: Resin / Stainless steel
One-touch, slide-adjustable Double-lock three-fold clasp
Stainless Steel / Resin Composite Band with an extension mechanism
Screw Lock Crown
Sapphire Glass with non-reflective coating
Shock Resistant
Neobrite
200-meter water resistance
Double LED light
LED light for the face (Full auto LED light, selectable illumination duration, afterglow)
LED backlight fot the digital display (Full auto LED light, selectable illumination duration, afterglow)
Solar powered
Time calibration signal reception
Auto receive up to six* times a day (remaining auto receives canceled as soon as one is successful)
*5 times a day for the Chinese calibration signal
Manual receive
The latest signal reception results
Time Calibration Signals
Station name: DCF77 (Mainflingen, Germany)
Frequency: 77.5 kHz
Station name: MSF (Anthorn, England)
Frequency: 60.0 kHz
Station name: WWVB (Fort Collins, United States)
Frequency: 60.0 kHz
Station name: JJY (Fukushima, Fukuoka/Saga, Japan)
Frequency: 40.0 kHz (Fukushima) / 60.0 kHz (Fukuoka/Saga)
Station name: BPC (Shangqiu City, Henan Province, China)
Frequency: 68.5 kHz
The auto hand home position correction
Digital compass
Measures and displays direction as one of 16 points
Measuring range: 0 to 359°
Measuring unit: 1°
60 seconds continuous measurement
Auto level correction function
Hand indication of north
Direction compensation (figure 8, 3-point)
Magnetic declination correction
Level correction function for the compass
Altimeter
Measuring range: –700 to 10,000 m (–2,300 to 32,800 ft.)
Measuring unit: 1 m (5 ft.)
Others: Relative altitude readings (±100 m /±1000 m), Selectable measurement interval: 5 seconds or 2 minutes
*1 second for first 3 minutes only
*Changeover between meters (m) and feet (ft)
Barometer
Display range: 260 to 1,100 hPa (7.65 to 32.45 inHg)
Display unit: 1 hPa (0.05 inHg)
Hand indication of pressure differential
Atmospheric pressure tendency graph (Past 20 hours or 5 hours of readings)
Barometric pressure tendency information (arrow indicate significant pressure changes)
Barometric pressure tendency information alarm (beep and arrow indicates significant changes in pressure)
*Changeover between hPa and inHg
Thermometer
Display range: –10 to 60°C (14 to 140°F)
Display unit: 0.1°C (0.2°F)
*Changeover between Celsius (°C) and Fahrenheit (°F)
Depth meter
Display range: 0 to 50 m (0 to 164 ft)
Display unit: 0.1 m (0.5 ft)
Auto save data (dive start year, month and day, start time, dive time, maximum depth)
*Changeover between meters (m) and feet (ft)
Data recording of up to 40 records (Altimeter, depth meter, barometric pressure, temperature, bearing, time (Time Stamp))
Moon data (moon age of the specific date)
Tide graph (tide level for specific date and time)
Sunrise, sunset time display
Sunrise time and sunset time for specific date
World time
31 time zones (48 cities + coordinated universal time),
One-touch UTC Time Zone Access, daylight saving on/off,
Home city/World time city swapping
1/100-second stopwatch
Measuring capacity: 23:59'59.99"
Measuring modes: Elapsed time, split time, 1st-2nd place times
Countdown timer
Measuring unit: 1 second
Countdown range: 60 minutes
Countdown start time setting range: 1 second to 60 minutes (1-minute increments)
5 daily alarms
Hourly time signal
Hand shift feature (manual or auto (during altitude, barometric pressure, depth meter, and temperature measurement))
Battery level indicator
Power Saving (display goes blank and hands stop to save power when the watch is left in the dark)
Full auto-calendar (to year 2099)
12/24-hour format
Button operation tone on/off
Regular timekeeping:
Analog: 3 hands (hour, minute (hand moves every 10 seconds), second)
Digital: Hour, minute, second, am/pm, date, day
Accuracy: ±15 seconds per month (with no signal calibration)
Approx. battery operating time:
6 months on rechargeable battery (operation period with normal use without exposure to light after charge)
21 months on rechargeable battery (operation period when stored in total darkness with the power save function on after full charge)

Size of case / Total weight

Size of case : 48×57.3×17mm
Total weight : 152g