G-SHOCK
Casio G-Shock GWM-5610BB-1


G-shock adalah icon simbolik dari jam tangan Casio. Hampir semua orang pasti mengetahui dan mengenal atau bahkan memiliki jam Casio G-shock. Jika Anda sedang berpikir untuk mendapatkan salah satu Jam Casio G-shock, maka Anda telah melakukan sesuatu yang benar.
Pastikan Anda membeli Jam Casio Original dan bergaransi resmi di sini.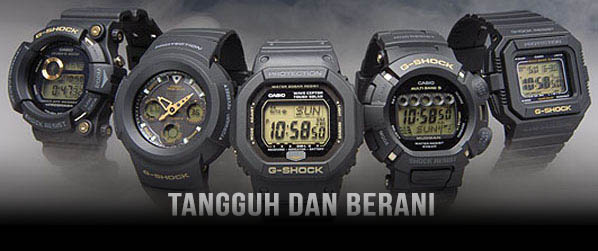 Spesifikasi Tehknik
Functions:
Multi-Band Atomic Timekeeping (US, UK, Germany, Japan, China) Receives time calibration radio signals which keep the displayed time accurate
Auto receive function (up to 6 times per day/up to 5 times per day for China)
Manual receive function
Signal: US WWVB, UK MSF, Germany DCF77, Japan JJY40/JJY60, China BPC
Frequency: US 60kHz, UK 60kHz, Germany 77.5kHz, Japan 40/60kHz, China BPC 68.5kHz
Tough Solar Power
Shock Resistant
Full Auto EL Backlight with Afterglow
World Time 29 times zones (48 cities + UTC), city code display, daylight saving on/off
4 Daily alarms and 1 Snooze Alarm
Hourly time signal
1/100 second stopwatch
Measuring capacity: 23:59'59.99″
Measuring mode: Elapsed time, split time, 1st-2nd place times
Countdown Timer
Measuring unit: 1 second
Input range: 1 minute to 24 hours (1-minute incremants and 1-hour increments)
Full auto-calendar (pre-programmed until the year 2099)
12/24 hour formats
Button operation tone on/off
Accuracy: +/- 15 seconds per month (with no signal calibration)
Battery power indicator
Power saving function
Storage battery: Solar rechargeable battery
Approx. battery life: 10 months on full charge (without further exposure to light)
.
Case:
Combination satin/polished finish. Black color.
Crystal:
Mineral glass. Flat profile.
Band:
Black color. Composite material (plastic or silicone or polyurethane).
Clasp:
Traditional tang style.
Water Resistance:
200m/660ft/20atm.
Case Size:
46.7 x 43.2 x 12.7mm.
Warranty:
1 year Factory Limited.